We are happy to publish first of, hopefully many more to come, Balkan Beat's - featured artist interviews, were we present unique members of Balkan Labs. It gives us great pleasure to introduce you to Nenad Dodic, a young designer from Serbia, all around creative soul, currently working @ Mccann Erickson, Belgrade office as Art Director. We imagine Nenad sitting at his home and answering our questions with a deep meaningful gaze into the distance…
Let's start with something simple...Browsing through your portfolio we see a diversity of styles, mediums and techniques. How would you best describe yourself as creative, if there is a such a thing?

NENAD: I am the kind of creative who loves various fields of art and who loves to experiment, and hence work in different techniques. Many people like to cling to one style, which is probably smarter, but I like to throw myself into the unknown and explore from scratch. It's fun. I'm not afraid to make some stupid work. Even as a child, I loved action figures, Masters of the Universe, different superheroes ... Whenever I drew some characters I imagined how they would look in real space. A few years ago I bought some clay for the first time and began to make the characters in this medium, and to me it felt totally natural. Eventually, I became a little better and came up with better materials. Hand made work is quite physically demanding but it pays off at the end.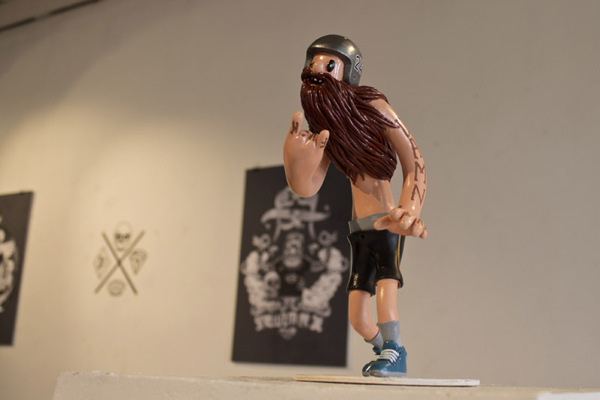 THE ONE PERCENTERS is a series of handmade figurines. They are obviously super cool, designed and crafted with so much love and attention to detail. You had a few successful exhibitions and lectures around this, and eventually your goal is to produce a collectible series. What is the story behind this?

THE ONE PERCENTERS were created first as illustrations, and then I made them out of clay and hand painted them. I am pleased with how they turned out, they have that nice balance between bad guys and good guys, which is not easy to accomplish. At exhibitions people react and often interact with them. Hopefully we'll see them soon as collectible designer toys.

Toys for adults (not that kind of toys) are a very interesting phenomenon. These are obviously not for play, but more of a prized possession. Where do you think the fascination comes from, and what are your favorite pieces or designers?

This trend started about twenty years ago and is still ongoing. Now toy design infiltrated everywhere, there are some toys even at the Moma, Museum of Modern Art. They are great because they are mix of a lot of things: character design, fashion, graffiti art, animation and much more. Basically these are collectors' items that are designed for people who love the visual arts and now they can afford a piece of art they like for a relatively small amount of money. There's a lot of quality artists, it all depends on your taste. My current favorites are Parra, Luke Chueh, McBess, Freeny there are many. There are Design Toy Awards where you can see the works of the most successful artists.
When we were growing up, our favorite toys were strongly connected with content. Hi-Men, were maybe better toys then actual cartoons and movies, and TNMT were better cartoons then actual toys. Do you think toys and content could work better together? You also like animation, do you see yourself in that area?

I love those old action figures, especially He-Man and his buddies. Mosquitor was my favorite. At home I have a small collection of these toys. It is always better when the toys have a lot of character, I love when their design has a story behind it. I really like the animation and comics, in general everything that has some storytelling. I see myself in this field in the future. I just finished my first short comic and my plan is to try to make a graphic novel or something like that in the next year or two.

You have been contacted by a toymaker from Singapore, and one of your pieces will be produced as a small series. That sounds like a dream come true. What was your reaction when you received the news and do you have any plans on starting production on your own.

Yes, I connected with producers from Singapore who are well-known in the world of toy design. our plan is to produce the first toy by the end of the year. I hope this will happen, because it really would be a dream come true. It is difficult to produce independently because it requires special materials and machines.
Technology vs handmade. Did you consider using 3D printers? Do you believe you can get the same results, or make things better?

I didn't think about 3D because I prefer to work by hand and move away from the computer. I have nothing against new technologies, recently I started to learn 3D modeling in ZBrush so i could try digital sculpting. For now it's very interesting, there are both advantages and disadvantages compared to hand-sculpting.

Tell us little bit about the technical process. You use sculpey clay... Do you have any tools, or tips & tricks for people out there on how to start making things?


I make figurines with Super Sculpey polymer clay. First i build a wire armature on which i build up clay and then the modeling starts. I work with my fingers and various tools. These tools are nothing fancy, mine for example are chopsticks. Then you bake it in a home oven, sand it and color it. Demanding, but a fun process. i finish some figures in days, some in weeks, depends on complexity and inspiration.

You are also a big fan of races and motorcycle culture...

I love motorcycles. This infatuation lasts from childhood. I love this whole iconography, especially the cafe racer style, retro looks, logos, typography, and everything that goes along with this iconography. Currently I drive an old Kawasaki that I love a lot and I will not change it any time soon. I'll have to take a long vacation once to ride across Europe. It will be a blast.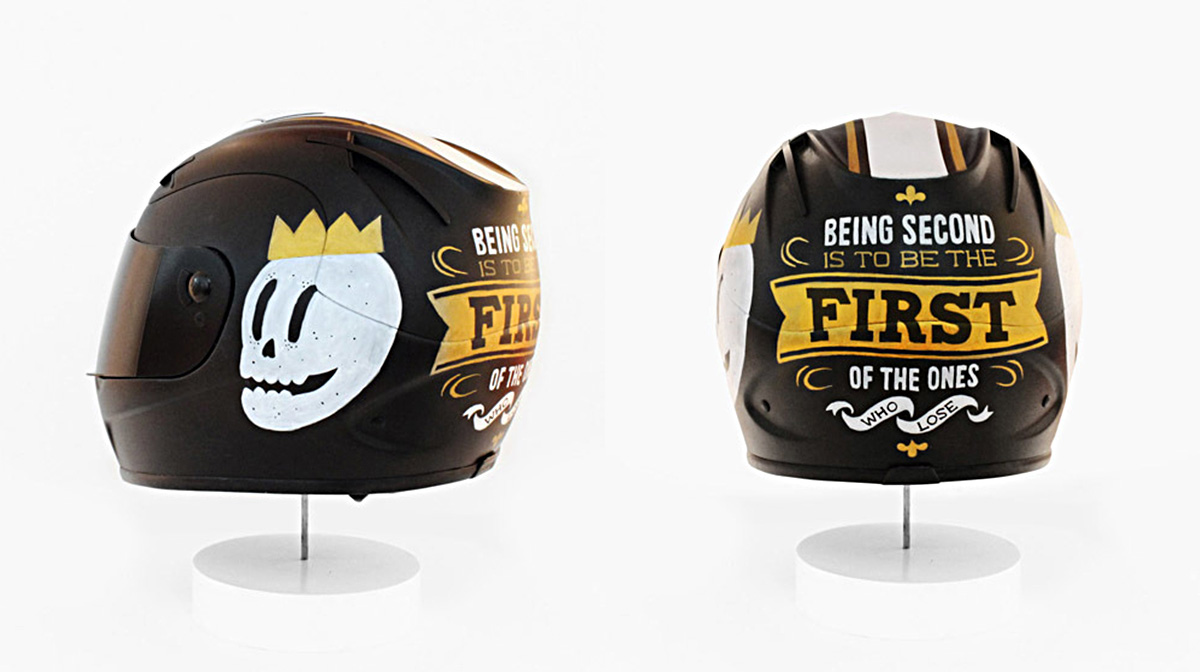 You have recently been awarded an in residence program in Sweden. That sounds like loads of fun, do you have a plan of what would you like to do there?

I'll spend a month in Malmo. I'll work at the STPLN art center. I think it will be great because it is an environment that fits me perfectly, with various workshops, courses, 3D printers ... A lot of things that are helpful to someone who likes to work manually, and I've always been a fan of Scandinavian design so I am really eager to start.

We thank Nenad for his time, and a sneak peak into his creative passions.
Please make sure to check Nenad´s work on his site and his Behance profile.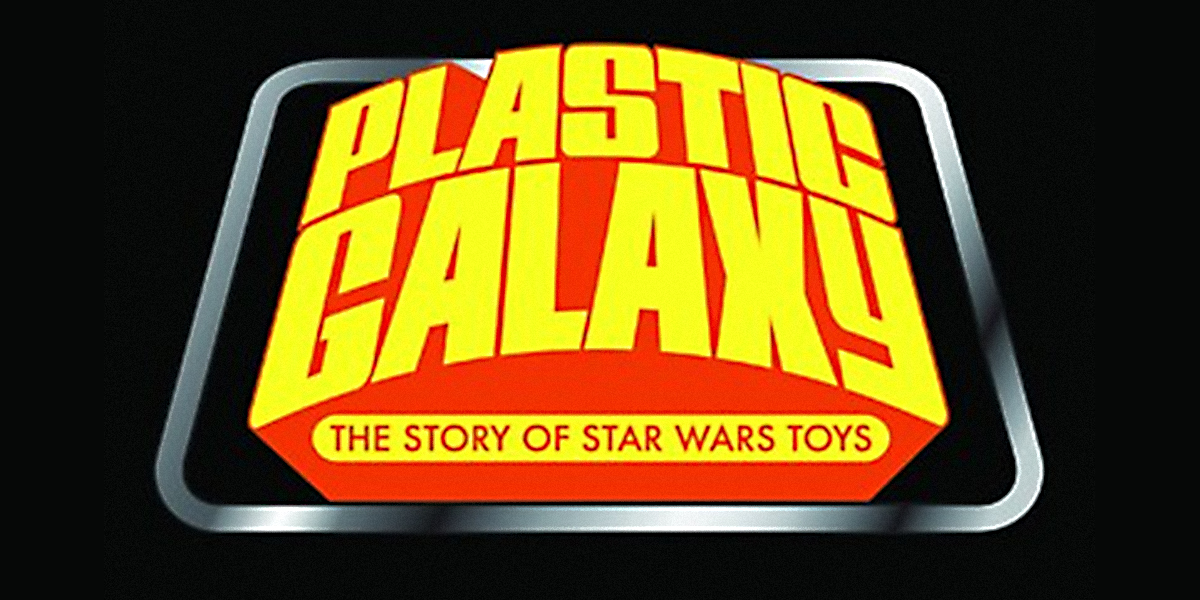 A long time ago in a...
Growing up in Yugoslavia and being born in time that my country was dancing on fine line between East and West, I didn't get opportunity to experience or play with the Star Wars action figures. There I said it, to be honest I didn't even know that there were SW action figure...
READ MORE
interview showcase talent toys